The other day I was teaching a friend some ひらがな. I had explained to him when we got to さ that some ひらがな looks different in print than it does in handwriting. Why? I didn't know. But I was taught to write さ like this:
See, the bottom and top don't touch - つながっていない. As I taught him I showed him the stroke order, and then we looked at a Japanese language learning website so he could see how the ひらがな looks in nice handwriting instead of my chicken scratch.
Then we happened upon そ. Like き and さ, I write it differently than it's seen in print:
It kind of has a てん on top, which isn't connected. I showed him, and then we looked at the site... which had written the character in one stroke instead:
Of course I deferred to the better handwriting, guessing that I had just internalized a certain way of writing based off my own (probably bad) habits. But today I happened upon a site that explained that both forms are completely valid. The only difference is that one is more common than the other, according to the Mr. Hideki Oshiki of the
押木研究室
at Joetsu University of Education:
社会的にどちらも「そ」という文字として認められています。一般的には「つながった字形」が多く使用されていますが、これは個人の使用に任せられていると考えられます。
Society accepts both forms of the character そ. The "connected form" is typically used more often, but this can be left up to the individual.
Mr. Oshiki then goes into the a lot of detail concerning the origin of the character, which type is easier to write/has more 'impact', and how the connected form may have gained more precedence, among other things.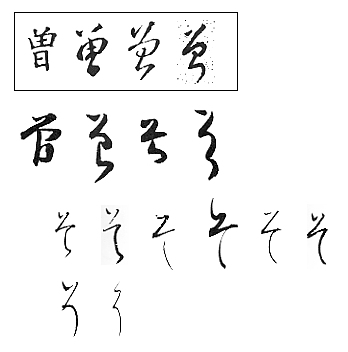 Image from 押木研究室
If you're interested in these kinds of questions, and in trends in calligraphy, the printing of Japanese characters and handwriting, you can find a good deal of information here. There is an
English menu
as well, and a list of
recent updates
which aren't reflected on the site's main page.
How do you write そ? Is yours つなげっている?Or つながっていない?